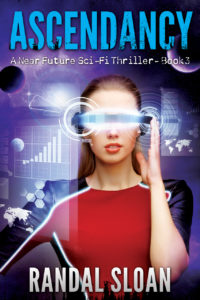 Book 3 is here! Plus a bonus!!
Book  3 Ascendancy is available on Amazon and Amazon Unlimited!
Ascendancy continues the story of Julie and Zeke as they oppose the evil Organization and work to rescue Julie's father. In the process, they'll learn about the real power behind the Organization. It won't be without hardship and they'll have to come up with new technologies if they are to survive the conflict.
If Books 1 and 2 are not fresh on your mind, you may want to re-read them to get yourself primed for Book 3! If it's been a while since you bought them, make sure you have the updated copy of both as Amazon often doesn't push it to you automatically (Cover should match pictures on sidebar of this post).  If you do enjoy reading the books, please leave an honest review for each on Amazon. It will be a big help in me being able to promote my books if I can get reviews!
I've added a short in the Near Future Sci-Fi Thriller series.  Book 4 – Juliette's Space Race is a novella that's a fun little book that tells the story of Julie and Zeke's daughter Juliette, who is determined to win the annual Space Tech space race and we touch on her far reaching future plans. (Sign up for my Reader's List below, and you can get the short for free!!!)
More books in the near future Sci-Fi thriller series are still on the drawing board, plus some other new ideas, and you can find out more on them by clicking here to go to my work in progress page!
Sign up for the Reader's List to keep up to date and you will know when the new books are coming out! Plus you get the FREE STUFF!
Copyright © 2016 NVision Future Technologies, LLC.  All rights reserved.
*randalsloan.com is a participant in the Amazon Services LLC Associates Program, an affiliate advertising program designed to provide a means for sites to earn advertising fees by advertising and linking to amazon.com.