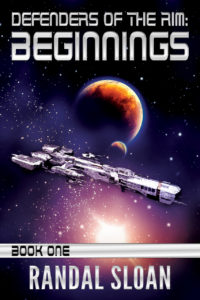 My newest book is almost here!!
I just had to show off the cover to my new book that's coming soon. I thought it turned out truly awesome; my cover design artist is a genius.
Defenders of the Rim: Beginnings will introduce new characters and new problems to solve. It's part of a new series that I've been having a lot of fun writing.  The new series takes place in the far future, so it's a little different but I think you'll enjoy it.  I have a long term plan to tie it back to the Near Future Series, but that's coming later.
I've posted an excerpt from the first chapter for you to catch a sneak peek.  Enjoy!
http://randalsloan.com/excerpts/